Jeremiah Family 2019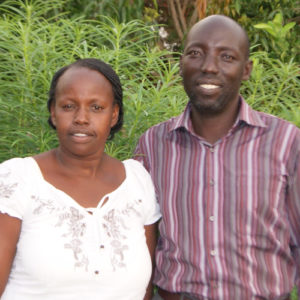 Uncle Shadrack's Testimony ad Calling Into Ministry
Before I knew the Lord, I suffered many hardships including the civil war and being abandoned by my parents and then raised by my grandparents. I almost destroyed my life because I was involved in drinking alcohol so that if I was killed during the war, I would not feel it.  I was totally hopeless and had no sense of belonging.  When I met the Lord, He saved me and set my life in a whole new direction.  I praise God that I am a father and a family father with New Hope Uganda.  Now, my children don't have to grow up as I did, but they have a home and a place to belong.
Aunt Sarah's Testimony and Calling Into Ministry
I grew up knowing the Lord, but I was physically blind until I was 5 years old when the Lord healed me.  Now I praise God for my sight because I can serve the children in Jeremiah Family.  My calling into ministry started from a young age because I have always really loved children.  When I met and married Shadrack we were at Kasana Children's Center where children would often visit us.  I asked Shadrack how we could have children and he asked me if I would like to be a family mother.  I said yes because it is a joy.
Our Family Goals
That the children would know God as their Heavenly Father.
To train the whole person: spirit through church, family devotions, and discipleship, mind through education, and hands by teaching them the value of hard work through daily chores and vocational training.
The History of Jeremiah Family
Jeremiah Family began in 2010 as a ministry to children who had been abducted by the LRA and then rescued in the district of Amuria.  The goal of Jeremiah Family at that time was to rehabilitate and bring healing to the lives of the rescued children.  Since then we have seen the Gospel bring healing to the deep emotional pains of these children, their recurring nightmares have disappeared, many are completing their education and going on to be successful in their future work, and, more recently, a few grown children have begun getting married and starting families of their own.
Our Home and Culture
The uniqueness of our culture and community is that we value family because it says in Psalm 68 that God sets the lonely in families. We speak family and emphasize that the children are brothers and sisters in the Lord.  Even as the children move on, we stay in touch with them. This makes us unique from many other organizations.  Another unique aspect of Jeremiah Family is that we do devotions every day and involve the children in sharing the word of God.  It is always interesting and a joy to hear from the children as they share with others.
Our Typical Day
5am – Wake up and chores
7:30am – School
4:30pm – Gardening
6pm – Shower and relax
7pm – Family Devotions
8pm – Dinner
8:30pm – Study
10pm – Bedtime
11pm – Parents' bedtime
Our Family Business
Our main family business is gardening, and our goal is to one day become self-sufficient.  Our gardens currently help supplement our food budget by about 50%.  The children help in every aspect: clearing land, planting, weeding, and harvesting.  It is enjoyable and rewarding for the children to eat the fruits of their labor.  Gardening also helps us to train our children to be hard-working members of their communities in the future.