"Train up a child in the way he should go,
And when he is old he will not depart from it."
Proverbs 22:6
Children in any culture face pressures and influences from very many sources. The sons and daughters at New Hope Uganda deal with the additional challenges of having lost their father and possibly mother. As a result, their guardians are often grandparents, uncles & aunts, or other relatives. In many cases, the child has been moved from one living situation to another and lacks a consistent training & discipline structure.
Some children are brought to live in the onsite family groups, where they are parented in a family under staff members serving as a father and mother. But most of the sons & daughters who are part of New Hope Uganda live in the surrounding community with their relatives and walk or ride a bike to school each day.
To help extend Biblical family & parenting to these children, the leadership at Kasana Children's Centre created the Childcare Extension program in 2010. Staff at Kobwin Children's Centre have also implemented the program there. The staff in this section of the Childcare Department work to support the family of the ministry's sons and daughters to bring up these children.
The Extension program's goal is to influence all the stake holders to work together for the best of our children and to make them more aware of their responsibility. When this is intentionally pursued, the community—together with the guardian—will hopefully own the children in a way that is easy for New Hope Uganda to partner with them in reaching out to the children. The Extension program has also helped New Hope staff to work together better with other responsible groups such as a few local churches, the police, and some of the local elected officials in surrounding villages.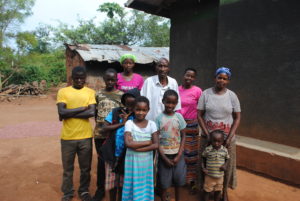 In order to build relationships with guardians and other community members, the staff in the Extension office form a network with various different levels. Area Caretakers are full-time Ugandan staff who are responsible for 2-3 villages. Each village then has a Village Caretaker who lives in the local community they are responsible for and works for New Hope Uganda on a part-time basis. There are also local volunteers who serve as Family Caretakers and regularly check in on 3-5 individual families where New Hope sons and daughters live.
The staff have seen the Extension program help address the ministry's concerns, deliver communications, and get feedback from the stake holders. More importantly, the children find themselves belonging to where they are and being parented by a team that is more like-minded.
The network helps the ministry to reach out directly to these children by delivering counsel, guidance, follow-up and also meeting the physical needs of children. It has also helped the relatives to grow together and they have continued to own their children and love them. This has developed through the meetings that Extension staff have with the guardians.
One day, an Extension team member went to visit a New Hope daughter who was living with her mom and other siblings, and discovered that she had been missing from home for a week. Although the mother was not very open about what she knew, the neighbors narrated to Extension staff the whole story of what had happened. As a result, staff were able to find this daughter bring her back to her mother's home. If Extension had not built relationship with these community members, the girl would not have been traced.
This is just one example of how the Extension program has helped the communities to be responsible not only to their own children but also other children; because these children also can later on benefit the community.
Please pray for our children who live in the community around our Kasana and Kobwin centers. Pray that they would experience the Fatherhood of God through our Extension staff and also the relatives they live with. Pray that our children's guardians would also desire to grow in relationship with God! And pray for our Extension staff, as they seek to be disciple-makers.
Text by Sambwe Rogers, Head of Childcare Extension
and Esther Carey, Communications Coordinator