New Hope Uganda would not exist without you and the many who contribute financially, or through time, prayer, and talents! Although we could highlight many of you, here we are just a few special donors that have used their gifts on behalf of the fatherless. We hope you find them inspiring.
Meet Donors Joey and Anissa Haywood and their children Alea (15) and Jonas (13)
The Haywoods are ordinary people with an extraordinary heart for sponsoring children. Joey and Anissa Haywood, from Wisconsin, have sponsored 25 children over the years (12 kids with New Hope).  They sponsor their children through college.  Some have already graduated and are now successfully employed, which brings them great joy.
New Hope calls their children sons and daughters, and the Haywoods take that seriously. Every other summer their family goes to Africa (Uganda and Kenya) to see their sponsor children and help with what is needed.
Anissa is a teacher of the deaf who is currently working as a sign language interpreter. Joey is a 3rd grade teacher. A few years ago, our special needs program identified a deaf child, Najib, in the community during one of their outreaches. In Ugandan culture, special needs children are often considered cursed from God and their fathers often reject them. Anissa connected with this sweet deaf boy and his family.  She helped them with sign language and because of this, Najib is thriving today.
The Haywoods make their sponsorship, travels, and generosity possible by following their inspiring motto, "We live simply so others can simply live."
Meet Gary Calhoun from Wasilla, Alaska
Gary Calhoun has been a donor to New Hope in extraordinary ways. He has taken nine trips to Uganda and led seven teams. When he has seen a need, he has responded.
When his team first came from Alaska to Uganda in 2003, all 16 of them got sick from drinking the water, so he came back and found out a way to solve the problem. He was instrumental in installing water purifiers at Kasana in 2005. Then they installed 60 units all over Uganda and have many thousands of Ugandan children on safe drinking water. His ministry verse is John 7:37-38, "Whoever believes in me, as the Scripture has said, streams of living water will flow from within him."
Their team also started a medical outreach in 2005, and turned it into an ongoing outreach ministry in 2014. When they were in Uganda the first time, they treated 1,400 kids and adults with infections, malaria, diabetes, jiggers, lice etc. There are now weekly outreaches to the Kasana area that are free to the local people, mostly children. Through these local outreaches, many children are coming to know Christ on a weekly basis.
As if he wasn't busy enough in 2005, Gary preached three times at a local prison. 40 people were saved (out of 80). So he talked New Hope into starting a prison ministry, and raised the funding for it. Now they are in a few prisons and approximately 400 prisoners a year are coming to the Lord. It is obvious that streams of living water are flowing through Gary and those who have served with him!
FAMINE RELIEF DONATIONS came from many special donors!
We were humbled and in awe by the outpouring of generosity during the most recent famine in Uganda.  Many of you responded to the need and together we provided much-needed emergency food.  In addition, we are considering some long-term sustainable solutions.
Many of you that have been to Uganda know that it is a fertile country that can grow a wide variety of fruit and vegetables. Those in the ministry and the surrounding communities planted their crops faithfully last spring to find that there wasn't adequate rainfall to water them. Even with fertile soil, you are dependent on God for the growth. As most of us know, life outside of the Garden of Eden is wrought with many things that can conspire against our gardens; whether it is rainfall issues, hail, lack of nutrients in the soil, rodents, mammals (I have deer that eat my garden in Colorado, but the monkeys eat the crops in Kobwin!). Many elements need to be right to produce a crop, so ultimately we depend on God. Please pray for rain during this growing season! Most of the crops were planted, but are still struggling from lack of rain.
Psalm 146:5-7    "How blessed is he …     whose help is the God of Jacob,
whose hope is in the Lord his God,
who made heaven and earth, the sea and all that is in them.
who keeps faith forever.
who executes justice for the oppressed
who gives food to the hungry!" 
Because of your generosity we could provide food for 3,889 people who would have otherwise gone hungry!  Churches were empowered to minister to the community as we used them to distribute the food.  In addition to people being fed, two people gave their lived to Christ!
A Picture is Worth a Thousand Words……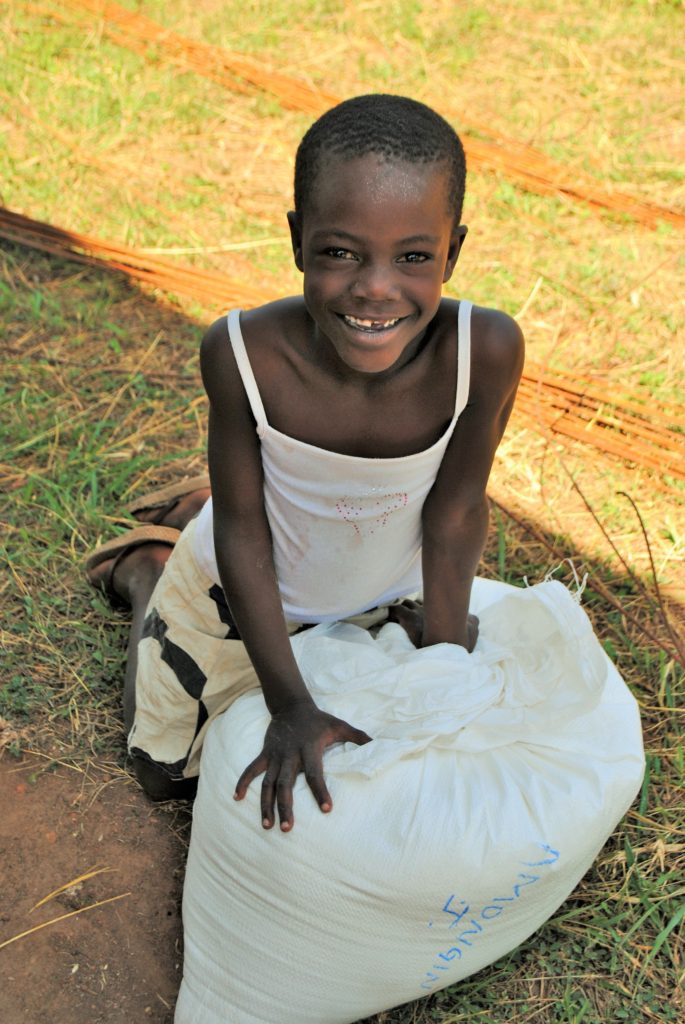 Partner with us to bring the Fatherhood of God to the fatherless.