With the hope of giving our prayer partners around the world a glimpse into life at New Hope Uganda, our daughter Hannah shared what a typical day during the school term looks like for her.
Hannah joined school at New Hope Uganda nine years ago, when she was seven years old. Her mother lives in a different district than where Kasana Children's Centre is located, too far for Hannah to come to school every day. So Hannah moved into Samuel family group and has lived there ever since. She goes to visit her mother over the long school holiday from December to February.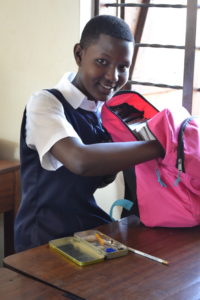 In 2016, she successfully completed the last year of primary (elementary) school! So in February, she transitioned from New Hope's primary school to New Hope Academy, the secondary school (equivalent to 7th-10th grade). She and her classmates completed their first term of secondary school last week!
Hannah shared that the change from primary to secondary school was a little scary at the beginning, but it got better with time as she adjusted to the new place and teachers and expectations.
On a typical day, Hannah gets up between 5 and 5:30 a.m. to study, have personal devotions, and eat breakfast before school. Between 6:30 and 7 a.m. she walks the 15-20 minutes to school, where she spends some more time in personal study.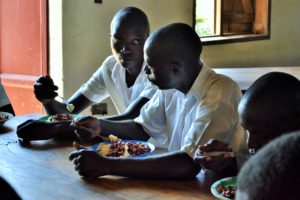 The school day officially starts at 7:40 a.m., when the sons & daughters at NHA have a devotional with a teacher and the others in their class. Classes run from 8 a.m. to 4:10 p.m., with two forty-minute breaks at 10:20 a.m. (for a cup of porridge or perhaps a different snack) and 12:50 p.m. (for lunch).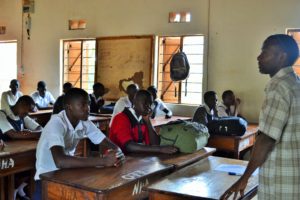 The NHA students study 11 subjects, with 12 teachers on staff. Each day of the week has a different schedule of which subjects are taught to which classes. The subjects are English, math, physics, chemistry, biology, history, Christian Religious Education, literature, agriculture, commerce (like economics), and computer (a new addition with the opening of the NHA computer lab last year!). Hannah says she enjoys all of subjects so far, but especially chemistry!
Each grade also helps to work in the school gardens once a week. The food grown there helps train the students in a major part of Ugandan livelihood, as well as helping to offset some of the school's expenses. On Fridays, the students end classes early (at 2:50 p.m.) and enjoy a time of games and sports together!
Once Hannah and her friends arrive back at Samuel family after school, they change out of their school uniforms and go to work in the family group's gardens. This usually involves weeding the maize (white corn), cassava, peanuts, or other crops that the family has planted. The month of May is also the time for making heaps of dirt to plant sweet potato vines in, and possibly harvesting beans.
The family father usually works alongside the sons and daughters who are in his family group. They finish between 6 and 6:30 p.m., then go bathe before family devotions. Next is supper, and then more studying until bed time at 10 p.m.
On Saturdays or during the three-week breaks between terms, the children in the family groups spend the morning working in the garden. Sunday morning, they attend church with the rest of the Kasana Children's Centre family. On Saturday & Sunday afternoons, they wash clothes, clean their houses, study, play games (soccer is an especial favorite!), or look for small jobs to do for staff members to earn some spending money.
When Hannah has free time, she enjoys reading novels, singing, cooking, and gardening. She hopes to become a nurse in the future!
Thank you for your support, both prayer and financial which make it possible for New Hope Uganda to care for fatherless children such as Hannah! Please continue praying that our children will grow in their knowledge and love for the Lord, and for the staff members as they endeavor to love and train our sons and daughters well!