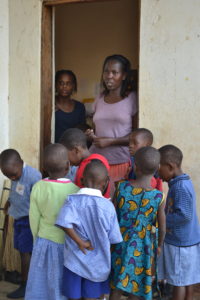 When a new school year opens each February, the children in preschool are welcomed into the New Hope family by their teacher, Scovia Oundo. Auntie Scovia has been teaching preschool at Kasana Children's Centre for 23 years!
Scovia knows from personal experience how it feels to be a new child coming to Kasana for the first time. She was one of the first groups of children to join New Hope Uganda. In 1989, when Scovia was about 10 years old, her grandmother brought her to apply for a place in the new school, and she joined that year.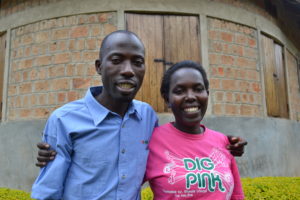 During the Ugandan civil war in the 1980s, Scovia's father had been killed by gunfire. Her mother had also disappeared while looking for food. This left Scovia and her brother Richard (shown together now at left) with no parents at a young age. Their older cousins proceeded to sell the land that had belonged to Scovia & Richard's parents, leaving the young orphans with nothing.
Scovia said that when her grandmother first brought her to Kasana, she met Jonnes and Gertrude Bakimi who were registering children. She liked Auntie Gertrude because she was a teacher, but she wasn't sure about Uncle Jonnes. "I used to hate people who smile," she explained. "So I tried to avoid him because he smiled a lot. I saw no reason for smiling, but he kept smiling."
She recalled how Peter Kisaka, the second person hired by New Hope Uganda, would lead assemblies and preach to the children. At first, Scovia said she liked the Gospel from a distance, without taking part in it. It took her three years before she received Christ as her Savior. "I thank God for the Gospel," she continued. "There was little money, but [the uncles and aunties] spoke to us the Gospel."
"I can't imagine what my life would be like without New Hope, it's hard to think of it," Scovia said. Her grandmother was old, had no money, and was trying to care for many children – it was hard for her even to get food for them, let alone provide for an education.
After a few years in elementary school, Scovia went for training in tailoring and then teaching. She became a staff member at Kasana in 1994, teaching preschool, making uniforms for the children, and translating at the clinic. She said she is thankful for the growth in the clinic that she has seen over the years, as there has been a big improvement there!
Scovia later became the first Kasana bride when she married Julius Oundo, who was working with the ministry's poultry. Together, Julius and Scovia have continued faithfully serving God with New Hope! Uncle Julius is currently farming for his family as well as helping at the Pastoral Training Institute.
They have six children of their own, as well as two others who they have taken into their family. The couple's oldest daughter just finished training to be a nurse in November.
But the children Scovia has impacted far out numbers those eight – generations of Kasana sons and daughters have started their education in her class. At Envisioning after Scovia had shared part of her testimony, the MC asked anyone Scovia had taught in preschool to stand up. Several staff who started off as children here stood, as well as sons and daughters in Investment Year.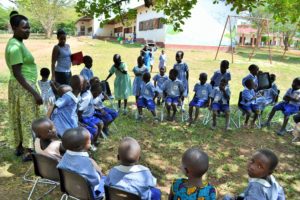 "I do everything I can to make the children in my class like school. And I also parent them," Scovia said.
Some of the children, especially those living with elderly grandmothers, go back home at the end of the day and have to parent themselves and younger children living in the home. Scovia remembers being in that situation. "I would take back what I was hearing at school and teach the others—otherwise I would be lost."
So that is her goal now as she teaches younger generations, to train children who may not have another strong parental figure in their lives!