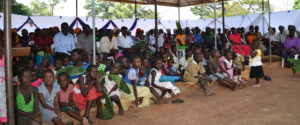 The New Hope family at Kobwin has much to thank God for this year!
Earlier this month, the Kobwin staff held their end-of-year celebration. It was a time of witnessing to the surrounding community about what God has been doing in and through Kobwin.
Part of the day was dedicating the new primary school building! The construction work was completed just a couple days before, with several Kobwin sons helping in the project. Charles Ikwarit, Kobwin Manager, testified to how much the community has been encouraged by the new building.
Geoff Britton, Head of Childcare at Kasana, spoke to the gathered crowd. He reminded them to praise God for the building, not merely Uncle Charles or New Hope Uganda. He then prayed for the people who will be using the classrooms, that they and the structure would be sanctified and holy.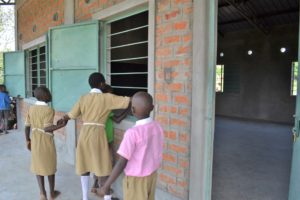 The students are looking forward to begin using the new building in February when school reopens for the year! This classroom block is the first of three needed for the primary school; the other two will be built when funds are available.
The family also launched 12 sons and daughters, among the first Kobwin students to finish their education! Five daughters completed the tailoring course held onsite, and each one received a sewing machine to take home and begin her business. The sons launched had completed courses in construction, carpentry, and car mechanics – and they also received tools for their trades!
One of the daughters shared her testimony with the gathered group. She was one of the first children to come to Kobwin. Before that, she had been abducted by Kony's rebels. She spent almost three years in the bush under their control. It was a time when she suffered much and was mistreated. She and the others were forced to go without food, walk long distances, and even to kill others. If they refused or complained they were tired, they would be killed.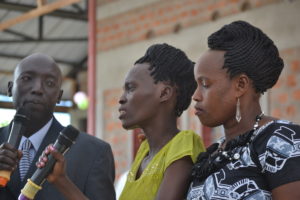 When this daughter returned from the bush to her family, she felt that everyone had rejected her. But, she said, God helped her. She never had hope to study again – because when she went to school the others would call her 'wife of Kony' and verbally abuse her.
But God brought New Hope Uganda and brought her into this family. She thanked Sarah & Shadrach Okiror, the Jeremiah family group parents, who stood with her and often comforted her in the night when she would wake up from nightmares of the rebels chasing her.
Now she has completed her tailoring course, and she looks forward to returning home with her new sewing machine!
The last event of the day was a wedding of one of the security guards. He and his wife were married several years ago according to local customs, but they wanted to sanctify their marriage by entering into a covenantal union.
The whole day was one of great joy and celebration. The Kobwin family, as well as members of the surrounding community, know very well just how much God has blessed them—and they praised Him vivaciously for His gracious gifts!
Please pray for our Kobwin children and staff as they enjoy the long holiday. Pray for provision and safety, as well as times of rest and refreshment!