Many parts of Uganda experienced a first rainy season this year that was late and shorter than normal. This resulted in people's crops not producing as well as they normally do, which means that many families have been suffering from a lack of food. This has affected the communities around both New Hope centers.
In the area around the Kobwin Children's Centre, some people have even resorted to stealing food. Charles Ikwarit, the manager at Kobwin, related a couple stories of women who had cooked food for their family, only to find it gone from their kitchen moments later.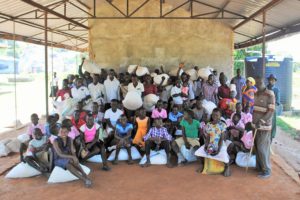 In partnership with many generous donors, New Hope Uganda is working to provide food for the families hit by the food shortage. At the end of August, nearly 50 families of the Kobwin sons and daughters from the surrounding community received 30 kilos (66 lbs) each of beans and posho (like white cornmeal), the staple foods in Uganda. This hopefully fed the families for about one month.

This is the first time the Kobwin staff have provided this type of assistance to the families, Uncle Charles said, and it comes when it is greatly n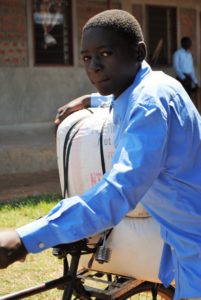 eeded. The families were surprised and grateful to receive the food!
"Some ladies went singing the whole way home because they were so happy," Uncle Charles said. "It's a huge blessing – we praise God for being able to bless the community like that."
This video shows some of the recipients singing joyfully to God after receiving the food. They are using their local language of Ateso. The lyrics talk about praising God because He is wonderful!
Naturally, the food distributed blessed not only the New Hope sons and daughters who attend the Kobwin school, but also their families who they live with – grandparents, mothers, uncles, aunties, siblings, and cousins!
Please join us in praising God for His provision for this project! Please also pray that the second rainy season of the year yields better crops for these families.
If you would like to see more photos from the Kobwin food distribution, there is a photo album on our Facebook page. Simply click here to view them!
Photos, video, and text by Esther Carey,
Communications Coordinator