We continue to rejoice in what God is doing at Kobwin Children's Centre!  The following is a list of praise for all God is doing in the children at Kobwin.
By Shadrach Okiror, family father of Jeremiah family group which provides a place for some of our Kobwin sons and daughters to stay.
1] Service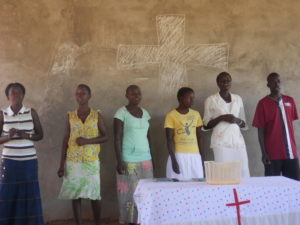 We have seen some progress in our children in the areas of service and responsibility. They are involved every Sunday in making sure the church is arranged and ready for church service, many are involved in the church choir, and there is always a young person serving as an interpreter in all the church programs. These activities are aimed at mentorship and discipleship and equipping them for works of service.
2] Academic Progress
I am happy to say that this year we have had two of our young people complete courses in nursing and are now looking for employment. As Kobwin family, we also had our first son join High School (11th/12th grade) after Investment Year (other students have all gone on to to a vocational course).  This son is one the Bible would refer to as a "wise son who brings joy to his father"!  This is exactly what this son means to me as a father. I delight in him and God is using him even in the school he goes to and they call him Pastor. He writes songs and leads others whenever he is home here. He is such a blessing and we have hope that as we invest in him, God will use him to reach people where we cannot. Amen.
3] Financial Responsibility
It is very exciting to see some of our young people gradually entering into places of responsibility!  Some have been able to save the little small monies they worked for during their own free time outside family programs.  I want to proudly say one of the sons was able to buy a small pig which was later sold and money was added to what was saved and a young cow was bought which grew and as we talk now the young man now owns a garden of his own through that effort. There are several who have worked and saved and have bought a chicken and others own turkeys as they look a head into their future education costs and responsibilities.
4] Leadership & Living Exemplary Life Styles
Some of our children have had some leadership roles in the family and this has equipped them to take leadership in the local Secondary School they attend. We thank God for those opportunities to develop leaders out of our sons and daughters.
We have always received comments from various people at the Secondary School our children go to who have said to us that our children are well behaved and are humble which we thank God for and we will continue to build into this as the Lord enable us.
5]  Value
We thank God so much for the manhood and woman programs we have had which have helped our children to stay focused and to value their lives.  Cultural lies about womanhood and manhood have been uncovered, and now they know the truth.
I believe this is why we have had our daughters and sons stay in school and not drop out and go get "married" (live with someone) as is so common among teens in our neighborhood. We are not yet there 100% but we are making some progress towards that. Amen.
One of our sons who completed his course last year and was launched out also just got married! This was our first Kobwin son to be joined in holy matrimony, and we are very excited to see that we are beginning to see some fruit of what the Lord is doing here!
6] Relationship
In Malachi 4:5-6 God says, "Behold I will send you Elijah the prophet before the awesome day of the Lord comes. He will turn the hearts of the fathers to their children and the hearts of the children to their fathers, lest I come and strike the land with a decree of utter destruction."
I am grateful this is what the Lord has called us to and given to us as the Kobwin family.  I am so thankful to God for the hearts of children He has turned around who were very difficult and hard but now they are such a joy and are truly sons and daughters I as a father delight in. To see a heart of an orphan turn to you and then begin to trust you and begin to belong and identify with you and feel secure around you is God's work! I praise God for such hearts He has turned around that can now be invested in.
One may not fully understand what I am talking about not until you have taken an orphaned child into your own house and stayed with them–then you will know what I am talking about. Imagine the 27 I have who come from different walks of life with different experiences and pain. I praise God for He alone can do it. Amen.
There are 12 children/young people who are part of Jeremiah family on a more permanent basis. The family has been very large this year because all of the Kobwin 6th graders and 10th graders stayed in Jeremiah as they prepared
for the national exams which they have completed this month.