The Kasana family held a special celebration this month!
Fourteen sons and daughters of New Hope Uganda were launched on August 13th in honor of the successful completion of their education. From joining New Hope in primary or secondary school, they have now become young adults equipped with the foundational knowledge and skills to serve and work in various fields.
The annual launch event is to recognize those who have finished their own particular courses – vocational, certificate, diploma, or even a University degree – throughout the past year.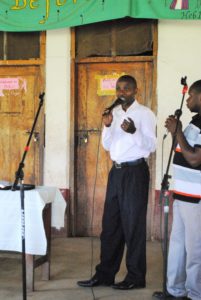 Geoff Britton, Early Adulthood Coordinator, opened the gathering by thanking God for what He has done in the lives of the young people. He also read from 1 Timothy 1:5 as a reminder that the motivation for the work and ministry is always love – "Because God has loved us and gives us the ability to love others."
Tony Muwanguzi, Head of the Education Department, shared various memories he had of the celebrated students. Since he has been here for many years, he taught most of them in senior school!
He thanked them all for their hard work and for not giving up, and thanked specific ones for welcoming him as a father-figure in their lives.
The Dangers family even took part in the celebration by sending video messages from home assignment in America!
Uncle Geoff then welcomed any of the sons and daughters to share a testimony with the group. Each one who shared thanked God for His blessings in their lives!
Kiweewa Christopher came to New Hope when he was about six years old. In the past two decades, he has seen many things change. He said that it has been a long journey, requiring hard work and persistence – but that it would have been even harder if he did not have New Hope in his life. Christopher has now joined the New Hope family as staff, working as the Enterprise Farm Manager!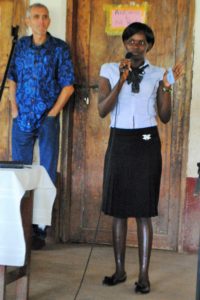 Arebo Agnes became connected to the Kobwin Children's Centre in 2009 when she was in Senior 1 (7th grade). Agnes said that her life and behavior started changing from that point because of her interactions with the New Hope family. In 2013, she came to Kasana to take part in Investment Year – and since then David family group has been a special home for her. She has just completed training to be a nurse at the nearby Kiwoko Hospital.
Kanakulya Geoffrey joined New Hope Academy in 2006. He testified to the blessings he had received from God through many of the New Hope staff. "Some gave prayers, some 50 shillings, some millions of shillings, some lunches as I was going back to school; everyone has blessed me," he said. He especially thanked George Opuche, who was his father in Samuel family for several years, for the counsel he gave him.
He also praised God for the character which the New Hope family shaped in him, and which paved the way for him to receive a job offer right out of school! Geoffrey completed a diploma as a clinical officer, and is now in charge of a medical center in Kampala.
Jonnes Bakimi, the Ministry Coordinator, addressed the sons and daughters, reminding them how many children studied with them in their early classes – at least 30! But now several years down the road, the numbers had dwindled down. "Any fool can start something – a race, a building, anything," Uncle Jonnes said. "It takes character to finish and finish well! Don't forget where God has brought you from – it has been by His grace. Celebrate that!"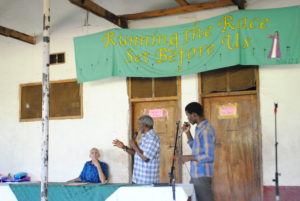 Each son and daughter was presented with a gift. The other celebrants who were able to attend were: Nabulindo Juliet (course in tourism); Zawedde Mabel (degree in accounts); Kikanya Vincent, (car mechanics course); Segirinya George (electrician course); Namara Wonderful (certificate in social work); and Namulwana Justine (secretarial certificate).
In conclusion, Uncle Jonnes shared the following blessing: "You came in desperation, you are released in hope. You came in need, you are going out in bounty in the supplies of the Lord. You came without love, you are released in love. We ask for every favor of the Lord to be upon you. You came without understanding family, you are now a symbol of family. You came without a thought of tomorrow, you are now released into a future the Lord holds in full—both to be blessed and to be a blessing."
We want to express our appreciation to all the sponsors and supporters who make our work possible! For us and for you, these young people are our fruit, our finished products. They are why we do what we do!
Please continue praying for the Early Adulthood staff, as they work to shepherd the 106 sons and daughters in their care. Pray also for God's continued financial provision for their schooling!
Text & photos by Esther Carey
Communications Coordinator