Our New Hope Uganda board in Uganda oversees the operations of the ministry there on the ground. Here are updates from two of our eight board members.
Mugabi Ronald
I am from a broken family. The first few years of my life I lived with my mom who was working at Kasana as one of the cooks. When I was around 5 years old, she passed away. I then joined the Muwanuguzi family (Uncle Tony & Auntie Sarah). My dad passed away before I got an opportunity to meet him. I spent all of my childhood at Kasana, and I got to know the Lord from there.
Through New Hope I was able to attend school up to university level, attaining a bachelor's degree in IT from Uganda Christian University. I am now an IT specialist, working at Kiwoko Hospital as the ICT Manager since December 2011.
I am involved in Emmanuel Youth Outreach at Kasana, and in a men's fellowship here at Kiwoko Hospital called "Kyuma Kyuma" (Luganda "slang" meaning iron sharpening iron). We meet regularly and also have a radio program on New Hope's Musana FM where we discuss issues that men face. I am currently serving as the chairman of New Hope Uganda's Sons and Daughters association and I am on Kiwoko Hospital Management.
I got married November 26, 2016, so we just celebrated our first anniversary! My wife's name is Stella. She works at Kiwoko Hospital in the finance department, and is also a daughter of New Hope! Our first baby, a girl, just arrived on Friday!
Recently, I was approached to serve on the NHU Board. What I have seen and loved about the board since I joined is the relationship amongst the board members. It really is sweet!  Even as we are discussing serious things, we are discussing at a relational level and it is evident that the members have a real heart for the ministry and are serving from their hearts.
Every time I think about my transition from childhood at New Hope into adulthood and now to being a member of the NHU Board, I think about the passage where it says God lifts us from the dust and seats us with princes (1 Sam. 2:8). When I was asked to join, I thought what will I add to what these people have? I just would say I'm humbled to be part of them. Because I went through New Hope, I am blessed with this opportunity God has given me to serve.
One of the areas of NHU's ministry I'm most passionate about is youth ministry—reaching out. I felt when we were youth at Kasana, we would get and get and get and get—and actually, we used to complain a lot until we started giving out to the people. Then, we began to see how blessed we really were! I love working with the youth, investing in them, and helping them grow. I am so passionate about seeing what God is doing in their lives!
The other thing I'm passionate about is childcare. I think that is one area I follow the most at New Hope—I talk with Sambwe (another NHU son and head of the Childcare Extension program) and find out what is happening. Personally, I loved the up-bringing we had, and I want to make sure it's still happening the same way. Out in the community, there really is a difference between kids who grew up at NHU and those around them. We can reason things out, the way we view things is different—and I want our current children to continue receiving what we received.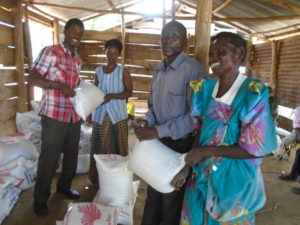 For a while, I had been a bit concerned that we as a ministry were beginning to get a bit out of touch with the people in the community around us. But, this year, the famine relief was really a big blessing and enabled us to get out of our gates and reach out to the people. I was thankful for people like Kizza Wilberforce and the other young men who were involved and went out. There were many praise reports. It was a hard time, but God used it as a blessing to reach out to the people.
I am also seeing the physical structures really changing and looking better. Wow! Literally every time I come (usually each Sunday for church), there is something new they've worked on! It is looking beautiful. It has been the provision of God and I know this is something they're investing in for the next 20 years.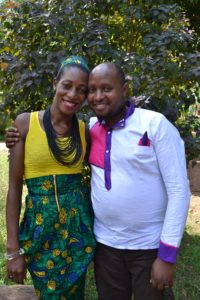 I am thankful for our donors because I am partly who I am today because of those who gave—the sponsors, and others. Most things we used at New Hope were from donors. My prayer for them is that God will bless them and that they will be able to see God even through their giving. Really, we can never thank them enough, but they will find their satisfaction in the Lord. I know the beneficiaries may never even meet them to say thank you, but God's love will shine upon them and they will be able to hear His words saying, "Well done, good and faithful servant!"
For 2018, I am looking forward to seeing the hand of God again in provision. God has always led us through, so He will do so again!
Happy James Tumwebaze
I am the seventh born in a polygamous family of 16 children. But in 1972, God picked me up when I was wandering lost and gave me a new life of hope and future. I was able to go to school and graduate as the first person to attain university education in my family, clan and community.
I hold a Master of Arts in Development Economics from Williams College, MA with experience in economic planning and development, project planning and appraisal. I also bring to the NHU Board a knowledge of how central government works. My current research and work interest is in youth and development.
I am a husband of one wife, Faith Jesca Tumwebaze, since December 1979. We have six biological children (two boys and four girls) and now also have seven grandchildren. I am a member of a local Pentecostal church (Deliverance Church, Nsambya) where I have functioned as an Elder in charge of the Youth and Singles Ministry and a Church Treasurer.
I have known about NHU since the beginning, but specifically I have been on the NHU Board for the past 15 years.
Bringing the Fatherhood of God to the fatherless and knowing that true religion is caring for the orphans and widows has been one guiding theme as I have served with NHU. I have seen the little boys and girls who have come to NHU with no hope and no future grow up in the knowledge and fear of God. Watching them be changed into useful leaders in the community and in the body of Christ is what has made the biggest impact on me.
I am most passionate about NHU's strong belief in raising up Ugandan children and not westernizing (Americanizing) them. This has made it possible for the children to fit back into their communities, to be able to help improve their communities, and become responsible members and/or leaders in their respective communities.
I have seen many of our prayers answered in 2017, some dramatically. The return of Medi & Eva Kanyike from one year's stay in USA confirmed God's plan for NHU where children are raised up, empowered and become responsible members and leaders in their communities.
I am so thankful for our donors! It is God who gives us wisdom and strength to make wealth, but not all of us are able to recognize the role of God in the wealth that we make. Being able to donate from whatever one has is being able to appreciate what God has done, which to me makes a big statement of the donors' attitude towards God.
For our donors that have partnered with NHU, we could not do much without their support and/or involvement. I am therefore very thankful that whatever we have achieved, it is their achievements. My prayer for them is thus two-fold:
1) That they should continue to run the race that they started with us, knowing very well that God looks at their hearts and will reward them according to HIS own measure
2) That God will continue to grant them favor, wisdom and better health to maintain and where possible increase their capacity to support such deserving causes.
I am looking forward to more and more surprises from our God in 2018. My hope is to see more donor support in the form of sponsorship for children and missionaries, more designated support especially for infrastructure renewal, and more local support raised from Ugandans. I am also believing God for better health for all our staff and children as well as donors and supporters.